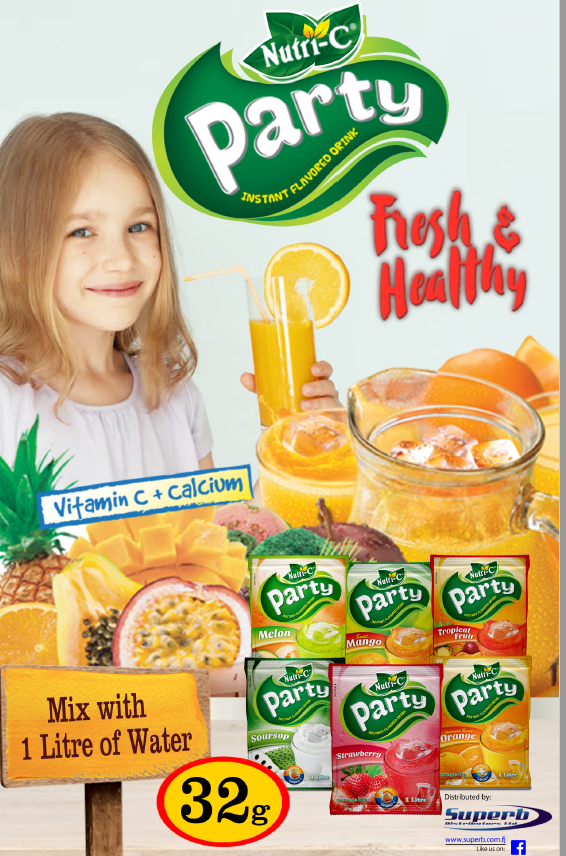 NUTRI-C Instant Powder Juice.
NUTRI-C is healthy refreshing and nutritious powder drink with a delicious taste. It has loads of multivitamins and minerals that keeps your stamina at a high level. It has your daily dose of vitamin C and other essential vitamins and minerals.
NUTRI-C is processed with Granulation Technology. Granulation is a process of changing natural materials into very small and dry particles, so it is very soluble when mixed with water; this is what makes it instant. 
NUTRI-C  is made of all natural flavours and contains no preservatives. All you have to do is just add a teaspoon or 2 of your favourite NUTRI-C powder to a glass of water, add ice if needed and enjoy. There is no fixed recipe to enjoy this delicious drink. You can add more or less as you please and according to your taste; No need to add sugar. 
NUTRI-C comes in 2 delicious flavour 
American Sweet Orange
Sweet Mango
NUTRI-C PARTY is one one of the leading fruit drinks in the country. You get the best value for your money while enjoying its rich nutritious value for your whole family. NUTRI-C PARTY is a concentrated instant drink that packs heaps of essential vitamins and minerals. 
One 32g of NUTRI-C PARTY sachet makes 1 liter of delicious thirst quenching drink. Perfect for parties, family gathering or just satisfying your thirst. Sure value for your money. 
NUTRI-C PARTY comes in 7 delicious flavours:
Tropical Fruit
Sweet Orange
Sweet Mango
Fresh Lime
Melon
Soursop
Strawberry
Vitamin C is a water-soluble vitamin that is necessary for normal growth and development, so why not make NURTI-C part of your daily routine that is tasty and nutritious. NUTRI-C is a perfect thirst quencher in this tropical humid climate, so why not take advantage of this perfect drink and gain some nutritious value from it at the same time.