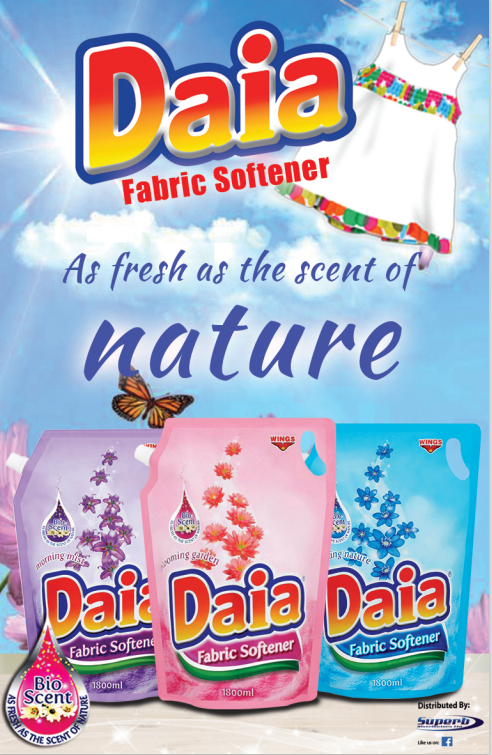 DAIA FABRIC SOFTENER
DAIA FABRIC Softener  softens clothes making it comfortable to wear and is delicate to skin. Makes clothes smell good, and prevent musty odour caused by germs. DAIA FABRIC SOFTENER makes clothes easier to iron and is wrinkle free. It contains  "Perfume Booster" technology: Magical perfume capsules binds fragrance in every strand of fabric, so the fragrant of the perfume stays everlasting. 
DAIA FABRIC SOFTENER is great with its wide range of fragrance selection from Floral series to Fruity series. Each of this series is enriched with Bio Scent! The refined essence that captures the freshness and beautiful scent from nature, it leaves your laundry smelling wonderful like what you can experience with the real bloom of garden & the fresh air in the nature.
You'll get wonderful smelling experience like nature and fresh air close to you – all from your laundries that soften with DAIA FABRIC SOFTENER Bio Scent!
This refined essence is micro capsule supplemented with freshness scent to make it refreshing. Its light micro fresh fragrant capsules is easily dissolve and infiltrate into fabric strands and leaving behind pleasant scent on each strand of your laundry fabric.
DAIA FABRIC SOFTENER comes is 3 refreshing fragrances:
Blooming Garden
Morning Mist
Refreshing Natural
Layer by layer, strand by strand, the fresh like nature floral or fruity scent will unleash slowly when you wear it. Great refreshing nature scent is always on you all day long. Just try it; you wont be disappointed!