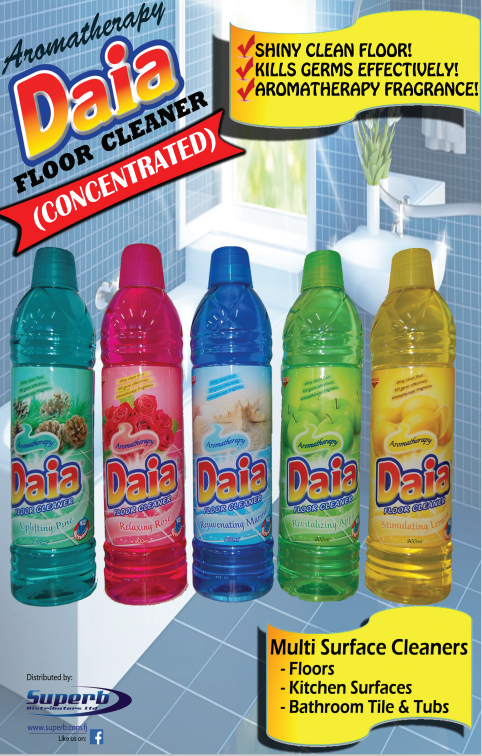 DAIA Floor Cleaner

Aromatherapy DAIA Floor Cleaners is an aromatic range of floor cleaner that gives energizing, refreshing & relaxing mood you and your family. It leaves on trails of cleanliness and fresh long lasting smell to all corners of your house And most importantly it kills Bacteria. It is also suitable for all types of floor and has a multi-purpose cleaning function. 
It is said that Aromatherapy is compounds for the purpose of altering a persons mind, mood, cognitive function and health. So why not walk into your house with a fresh aromatic smell that gives you a positive mood and a clean environment.
DAIA Floor Cleaner's  multi-purpose use ranges from Floor, to kitchen surfaces, to Bathroom Tubs and Tiles. It's concentrated power has the ability to cut through tough grease and dirt. For Floor cleaning all you need is just  1cup of your favourite DAIA Floor Cleaner added to 5 litres of water and mop/wipe away. For kitchen and other solid surfaces just apply concentrated solution to wet cloth and wipe. And for Bathroom Tubs and Tiles apply DAIA Floor Cleaner directly onto the surfaces and leave for 10minutes; then wipe through.
Available in 6 variants:
Revitalizing Apple
Calming Lavender
Stimulating Lemon
Rejuvenating Marine
Uplifting Pine
Relaxing Rose
DAIA Floor Cleaner will change the way you look at clean. Cleaning doesn't have to smell like harsh chemicals of bleach. Welcome the freshness of your favourite DAIA Floor Cleaner into your homes and enjoy the fresh clean aroma that kills germs and efficiently clean floor and gives shiny effect. DAIA aromatherapy fragrance makes your home more comfortable.