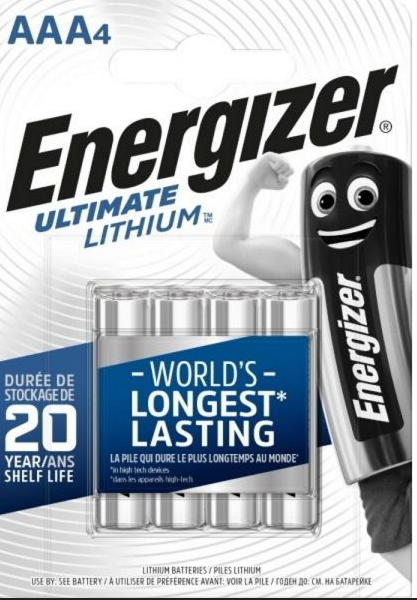 Energizer® Ultimate Lithium Batteries
Because today's high-tech devices demand more powerful batteries, we engineered Energizer® Ultimate Lithium, Energizer® Advanced and Energizer® Rechargeable to deliver optimal performance.
For the countless electronic gadgets that you can't live without, get the latest lithium battery technology that's proven to be the world's longest lasting AA and AAA batteries in high-tech devices.
Other things you should know:
It lasts up to 9X longer* (it takes up to 720 shots vs Energizer® Max's® 80). This means less change of batteries needed.
It has a constant power discharge meaning that you can enjoy peak performance from your Ultimate lithium battery powered device throughout its battery life
It's ultra-light weight– A lithium AA weighs 33% less than an alkaline AA Energizer Max! Perfect for on the go!
It performs well even in extreme temperatures (-40oC to 60oC). This means no frustration due to device failure in extreme cold or hot temperatures.
It has a leak- resistant construction so you no longer worry about damage to your favourite devices
It has an extremely long shelf life of 15 years – no wastage!
All in, it is a very environmentally friendly battery!