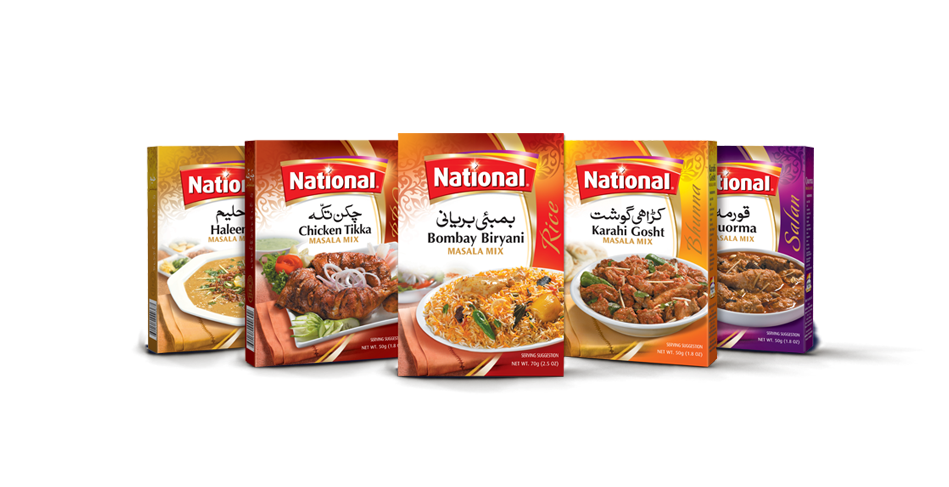 Indulge your taste buds with authentic flavours from Pakistan using National Spice Mix.
One of the benefits of having to use the National Spices Mix is that the recipes are written on the back of the packet and is easy to follow.
The National Spice Mix varies from a wide range of ingredients for your chicken, beef, fish and even vegetarian dishes. Not only are they easy to follow but consumers can get the experience of having restaurant quality dishes when using the National Spice Mix.
According to the National Foods web site their main aim is to deliver excellence in taste and quality of the food as they will continue to connect people. So make your foods taste special by choosing from the various recipes by National Spice Mix as you head out to do your shopping for that quick and easy meal.
Wide range of available flavours are available including;
National Spice Mix for Biryani 45 grams
National Spice Mix for Bombay Biryani 70 grams
National Spices Mix Butter Chicken 50g
National Spice Mix for Chicken Biryani 45grams
National Spice Mix for Chicken Broast 100grams
National Spice Mix for Chicken Masala (Murghi) 50grams
National Spice Mix Value Pack Murgi Masala 100g
National Spice Mix for Chicken Tikka 50grams
National Spice Mix Chicken Tikka Mix 50grams x2 Extra Value two bags
National Spice Mix for Chicken Tandoori 50grams
National Spice Mix Value Pack Chicken Tandoori Masala 100g
National Fry Fish Masala 50g
National Spice Mix for Fish Masala 50grams
National Spice Masala Value Pack Fish Masala 100g
National Spice Mix for Masaledar Bombay Biryani 70grams
National Spice Mix for Mutton Biryani 45grams
National Spice Mix for Pulao70grams
National Chicken Reshmi Kabab 45g
National Spice Mix for Sindhi Biryani 50grams
National Veg Biryani 50g
National Vegetable Pulao 50g